Thalía is included in People en Español's Los 50 Más Bellos 2021 (50 Most Beautiful). This is the fourteenth time that the Mexican artist is included in the list. She graced the 2003 cover of the last year when the list was still called as Las 25 Bellezas Latinas. She holds the record for being on the Más Bellos (including 25 Bellezas Latinas) coveted list a total of fourteen times since the magazine started the list in 1997: 1998, 2000, 2002, 2003, 2005, 2007, 2008, 2010, 2012, 2015, 2016, 2017 2019 and 2021.
People en Español's Los 50 Más Bellos is on their June/July 2021 issue.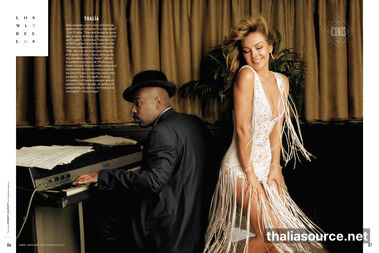 This singer and actress holds the record for appearances on the "Los más bellos" (Most Beautiful) list: 13 in 25 years. "There have been so many covers, photo shoots and people who have participated!", Thalía recalls, who has posed for many of these images in the Big Apple. "It has been more than twenty years living in the United States and to some extent I consider myself a New Yorker," says the 49-year-old businesswoman, who has her own fashion line and prepares the launch of new music and products for the home and pets, among other projects. "But my pride, my love, my passion and my flag will always be my country, my beloved Mexico, my people, my customs, my roots and my music. That inspires me." – Mayra Mangal
Thalía's image used on the Más Bellos 2021 is by Robert Ascroft in 2005. Click the images below to view more images in the photo gallery!






view more images from this album
UHQ
People en Español is celebrating its silver anniversary in 2021 and what better way to start the party than by unveiling a special double issue of "Los más bellos?"
Our guests of honor are the four talented and accomplished women who grace the cover of our June/July issue: Puerto Rican actress and television host Adamari López; former Miss Universe and television host Dayanara Torres; Colombian actress Carmen Villalobos; and Mexican television personality Ana Patricia Gámez.
Photographed in early April —in the former Golden Beach, FL, home of Puerto Rican singer Ricky Martin— the foursome shined in this group photo shoot, the first People en Español produced since the beginning of the pandemic following all safety protocols required in today's world.
This year's list of 50 Bellos was divided into two camps. The first 25 celebrities are iconic stars who have graced the pages of the magazine since it launched in 1996 —and the editors mined their archives to use those stars' best Bellos photos of the past. The remaining 25 are superstars who are shining in their own right today.